Rochdale Wedding Car Hire
Looking for wedding cars in Rochdale and Lancashire? Planning for a wedding or Civil Partnership can be a very stressful experience, with plenty to worry about from sending out invites to choosing a cake. While we can't bake a cake for you we can certainly take the hassle out of arranging a wedding car! Our limos and wedding cars in Rochdale include vehicles from vintage classics to modern 'Baby Bentley' Chryslers.
Our classic Austin is a true vintage wedding car and is commonly mistaken for a Roll s Royce. Find out more >

The Beauford Tourer is a modern take on a 1930s open top car. Give your wedding a fairytale car. Find out more >

A modern, smart looking car with great style and comfortable seating.

Find out more >

Our 'Baby Bentley' Chrysler 300 series provides a spacious, luxurious way to travel on your big day.

Find out more >

Our Cadillac takes you back to the days of rock 'n' roll and 'American Graffiti'.

Find out more >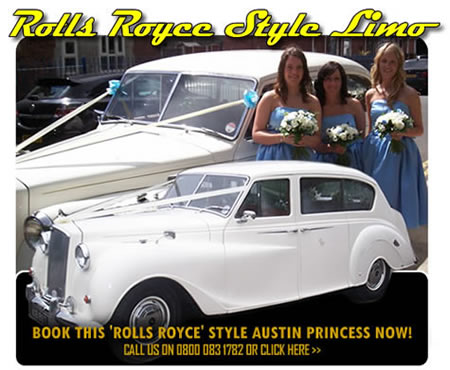 Austin Vintage 'Rolls Royce' Wedding Car
Our Austin vintage wedding car is commonly mistaken for a 1950s Rolls Royce! We have two vintage wedding cars in our fleet, both built by Austin and presented in beautiful white colour schemes. Our Austins are lovingly cared for and include leather seating for passengers. As with all of our bookings your car will come with a smartly dressed chauffeur who will arrive promptly and be on hand to make sure your travel plans go as smoothly as possible. Top of page >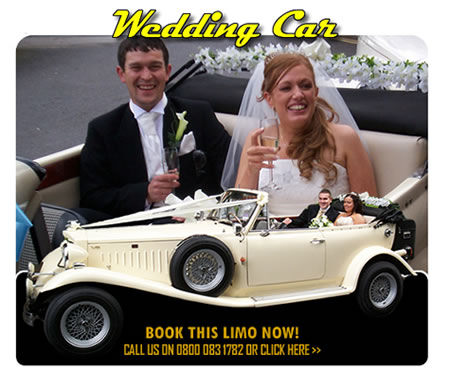 Beauford Tourer Open Top Car
The Beauford Tourer is often referred to as the 'fairy tale wedding car'. The Tourer's design is based on the classics of the 1930s and, with its large wheel arches, runners and spare wheel, looks every bit the dream car for the bride and groom. The Tourer is ideal for any weather conditions; if you are lucky enough to have clear skies and sunshine on the big day then the roof can be left open but, should the weather take a sudden turn, the happy couple can remain dry and comfortable as the roof can folded over. Large passenger footwells ensure there is enough space for the bride's dress! A lovely looking car whatever the weather! Top of page >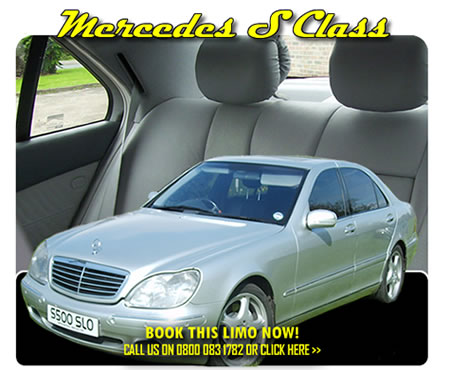 Mercedes S Class
For those wanting to arrive in something a bit more contemporary we have a Mercedes S Class in resplendent silver livery. Our S Class is the best in its category and includes air conditioning, leather seating and ample bootspace. Hiring our our executive cars can be done on a one off basis or as part of an ongoing corporate account. Whatever your travel needs we are flexible to your requirements! Top of page >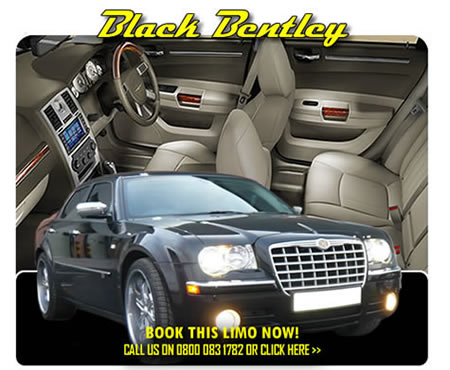 'Baby Bentley' Chrysler 300 Series
The Chrysler 300 Series is often nicknamed the 'Baby Bentley' and with its familar shape its easy to see why. The 300 Series is America's answer to the British Bentley and Rolls Royce models in the same class and, with its luxurious leather seating, large and distinctive grille, measures up extremely well to its UK rivals! Licensed for upto 4 passengers and our Chrysler is a very versatile car that compliments any corporate or leisure event. Decorative ribbons are available for weddings and Civil Partnerships (please mention this when enquiring). Top of page >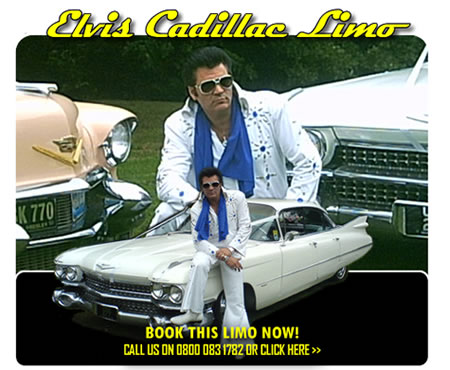 Cadillac Hire
Our stunning Cadillac limo takes us back to the days of Elvis, rock 'n' roll, waitresses on skates and classic American diners! Our Cadillac is a genuine 1960s model and includes the traditional chrome and tail finns that were synonymous with these iconic vehicles. If you would like an extra dose of nostalgia you can be chauffeured by our very own Elvis lookalike!
For more information please contact our friendly bookings office on 0800 083 1782 (or local number 01204 522 422) or use the enquiry form and we'll reply in a while with details on rates and availability. Top of page >