Limo Hire Rochdale
Stretched Limos In Rochdale, Lancashire
Explore our range of stretched limousines and pick your favourite for your next special occasion! Every limo in our fleet is thoroughly cleaned inside and out and is 100% legal, licensed and compliant with all national regulations. Rates and availability for hiring a limo in Rochdale is just a phone call or mouse click away - call our friendly bookings office on 0800 083 1782 (or local number 01204 522 422). To send us a message fill out the limo hire enquiry form and we'll get back to you with more details!
Our Baby Bentley Chrysler 300 series is licensed for 8 passengers and one of the most eye catching limos in the UK. Find out more >

The Ford Expedition 'Hummer Limo' is a real head turner in its silver livery. Find out more >

The

Town Car

is the traditonal style of stretched limousine and versatile enough to be suitable for a wide variety of engagements.

Find out more >

Another superstretched '

Hummer limo

' style 4x4, our black Ford Expedition is a great for stag nights.

Find out more >

A 14 passenger

4x4 limousine

from one of the USA's most prestigious coachbuilders.

Find out more >

Our

Ford 4x4 limo

is fully licensed for upto 14 passengers. Packed with plenty of features for a comfortable ride!

Find out more >

Lincoln is an American car builder of similar prestige to Jaguar or Range Rover. Our silver

Lincoln Navigator

is perfect for a hen night or birthday party where you want to arrive in style!

Find out more >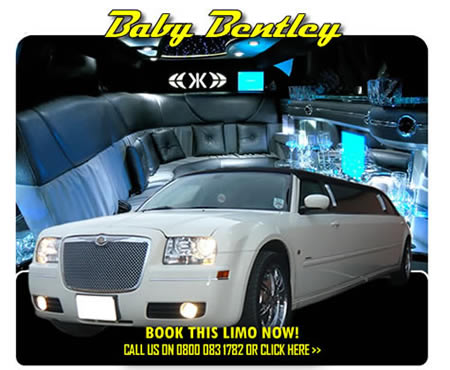 Baby Bentley Chrysler 300 Series
Our white 'Baby Bentley' is one of the newest models from Chrysler and regarded by many as one of the best limousines in the UK - period! We are proud to have this fantastic limo in our as part of our chauffeur car line-up and a step inside will reveal a long list of great features for you to enjoy. The car includes:
Illuminated interior with neon blue lights!
3 flatscreen TVs, DVD player and A1 sound system!
Charcoal tinted leather seating and matching cushions!
Backlit VIP bar area with glasses, decanters and champagne flutes!
Climate control, carpets, privacy screen and tinted windows!
This white 'Baby Bentley' is one of the most requested cars we have so book ahead to avoid disappointment! Top of page >
Ford Expedition 'Hummer Limo' In Silver
Licensed for upto 14 passengers per journey our Ford Expedition is strikingly similar to the popular Hummer limos that are associated by the rich and famous in Hollywood! Our Expedition is a real all-American V8 and comes packed with everything you need to make a hen night, stag night, prom ride or birthday party one to remember! Passengers can enjoy all of the following:
An unmatched sound system for you to pump out your favourite tunes!
4 flatscreen TV units and DVD player!
Air conditioning!
VIP bar area with glasses and champagne flutes for all passengers - pop open the bubbly, sit back and enjoy!
Carpets throughout, tinted windows, passenger privacy screen and mirror ceiling!
Strobe lights for a nightclub ride on the road!
Our Expedition turns heads wherever it goes and is a luxurious and fun way to travel on any special occasion! Top of page >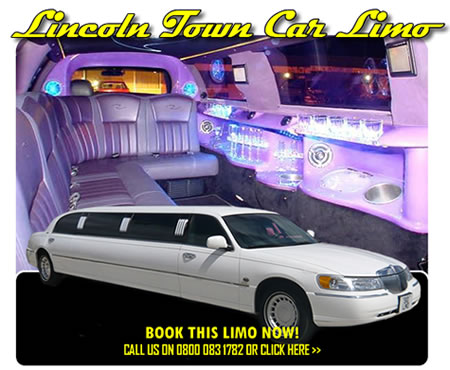 Lincoln Town Car Limousine In White
The Lincoln Town Car is the most traditional style of limousine and its pleasing design and white colour scheme allows it to be suitable for a wide variety of bookings, both leisure and business based. The car is ideal for weddings and proms in particular. Ribbons are available for wedding and Civil Partnership bookings. The car includes leather seats, carpets, privacy screen, TV and DVD player, fantastic CD stereo and surround speakers and bar area with clean set of glasses! Top of page >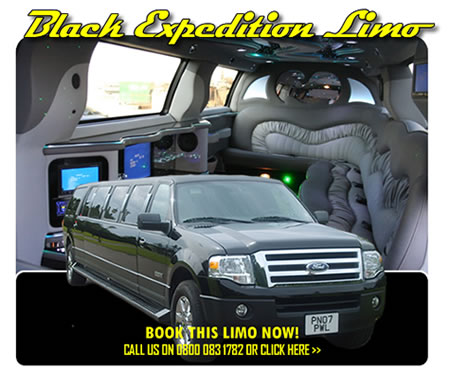 Ford Expedition In Black
Boredom evaporates the moment you climb aboard our Ford Expedition! Presented in a sleak black colour scheme this superstretched 'Hummer limo' style 4x4 is licensed and insured for a maximum of 14 guests per journey. Kitted out with tinted windows, carpets, a privacy screen and leather seats, why not bring a CD, sit back and relax with your mates as you listen to your favourite party tunes as we hit the road. Turn up the lights and get a nightclub experience thanks to our neon and fibre optic lighting and superb audio system. The party goes on as you travel around town and, when the club closes its doors, the fun continues as you head for home! Call us on freephone 0800 083 1782 or use the enquiry form to ask about our black Expedition! Top of page >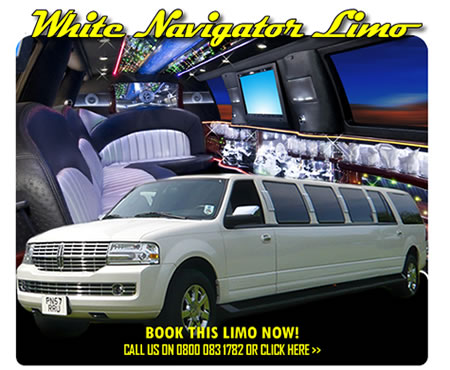 Lincoln Navigator In White
We offer two styles of superstretched limos in white colour schemes. Customers can choose from a Ford Excursion or Lincoln Navigator, both can accommodate upto 14 guests per booking and both are ideal for school proms, hen nights, stag nights, birthdays and airport transfers. Lincoln is one of the most prestigious car builders in the United States and our 'Hummer limo' Navigator includes everything you would expect from a modern, comfortable limousine. Leather seats, multicoloured fibre optic lighting, VIP bar area, carpets, tinted windows and top of the range TV/DVD/CD entertainment system all as standard! Top of page >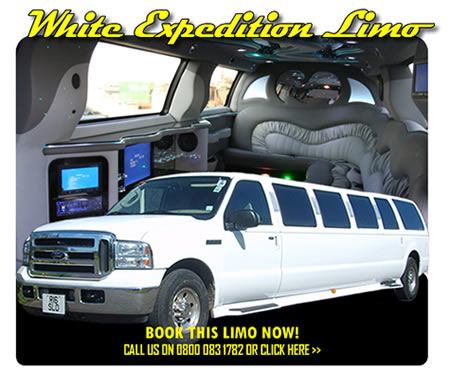 Ford 4x4 In White
Another all-American superstretched 4x4 from Big Slo Rochdale Limos! Our Ford Excursion 'Hummer limo' style 4x4 comes fitted with the latest in passenger comfort and onboard entertainment. The Excursion easily rivals the Hummer with its eye catching looks, V8 engine, silver grille and alloy wheels. Licensed for 14 passengers and equipped with leather seats, full entertainment system, tinted windows, bar area and glasses and Champagne flutes for everyone onboard. Great for proms, weddings, stag nights and hen nights! Top of page >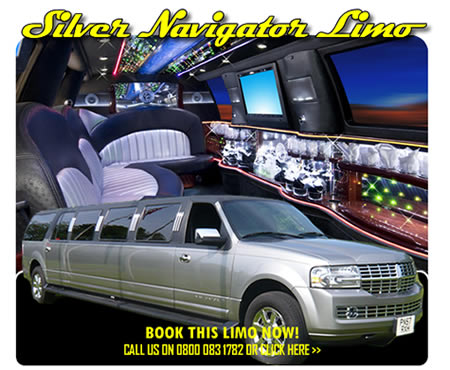 Lincoln Navigator In Silver
The second of our two supersized silver 'Hummer limo' style 4x4s, our Lincoln Navigators come with the highest specifications in comfort and facilities. Our silver Navigator includes:
Modern audio system
LCD TV units
Air Conditioning controlled by passengers
Strobe lights and mirror ceiling lights
Glasses and tumblers
Leather seating with seatbelts
Carpets
For more information please contact our friendly bookings office on 0800 083 1782 or use the enquiry form and we'll reply in a while with details on rates and availability. Top of page >